Want to Find Out How to Take Your Business from $20K to $2 Million? Read On!
I've enjoyed many years working as a business coach – helping companies of all sizes achieve growth. Almost all of them continued to experience growth, even during the Great Financial Crisis in 2008. Curious to find out the secret of their success, I wanted to discover whether there were common traits that could be identified among successful business that made them stand out from other profitable ones.  This resulted in the writing of my book, $20K to 2 Million in 2 Years.  
In this book, I share with you my observations and include useful tips and techniques that I've learnt over the years on what brings a company from $20K to $2 million in a short period of time – regardless of where your company is based. Best of all – you can access them in one handy guide.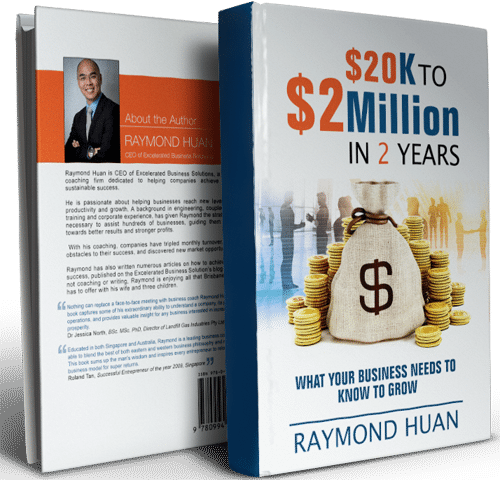 "Nothing can replace a face-to-face meeting with business coach Raymond Huan, but this book captures some of his extraordinary ability to understand a company, its people, and operations, and provides valuable insight for any business interested in increased prosperity…"
 Dr Jessica North, BSc. MSc. PhD, Director
What's Included?
In this comprehensive, easy-to-read book, you'll find:
In-depth steps to achieving success. Business success isn't just about one or two factors, it's about a number of different aspects that you'll need to employ in order to achieve growth. In this book, I'll share all of those factors with you, helping you to create a dynamic strategy to develop your business.
Case Studies
Sometimes, the most effective way to learn is through real-life examples, which detail precisely how certain business decisions can make or break a business. There are a number of useful case studies in this book, featuring world-famous companies, and also businesses that I've worked with personally. All will help you gain greater understanding of how to achieve success.
Activities and questions
I've always found that active learning is highly effective. In this book, there are plenty of activities and thought-provoking questions, designed to help you examine your own business practices and think about how you can change them to boost your company's revenue and reputation.

As an added bonus to your purchase, you will sent a series of emails with links to videos where I will work with you on the exercises in the book and bring you more in-depth information to the questions posed.  Consisting of over 40 mins of videos and valued at $249, through them, I will work with you to provide further examples of how the exercises can be applied to your business. I will stretch your mind on how your business can lay the foundation to grow at the speed of $20K to $2Million in 2 years.
 Reviews from Amazon.com
"This book was given to me as an advanced Christmas gift. I was pleasantly surprised that I actually liked reading this book… This is a great book for someone who is considering going into business, or those who, after a few years in business, want to know if they can do a better job at managing and growing their venture."
"If you own a small to medium business and suspect you could be managing it better – this is a great primer. It gives clear steps that anyone can follow and prompts deeper thinking about positioning in the market, internal operations and customer service."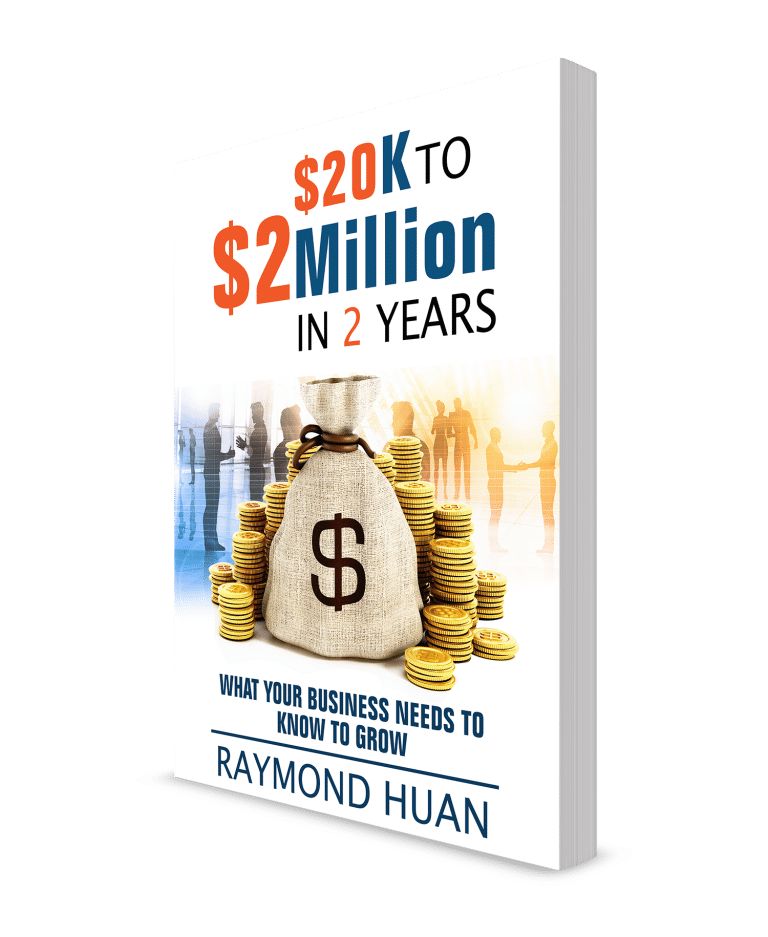 $20K to $2 Million in 2 Years is available in the following formats:
1. The Book  (Paperback Edition)
2. Audio Book (Mp3 Format)
3. Electronic Book (ePub/Kindle/PDF)
The comprehensive package option is the most cost-effective, as it includes the audio, electronic formats and a physical paperback copy which will be  delivered to your address for FREE (yes, free postage anywhere in Australia). This allows you to review the content through the medium of your choice and have a physical copy to use as a quick reference. If individually purchased, the investment would be over $74.00.  However, purchasing as a package will cost $49.99,  resulting in a savings of over 30% off the total costs. If you wish to purchase the package, please click on the button below.
Free Preview of the Book
If you'd like to get a better idea on what the book is about, you can download the first chapter of the book for free.
The Book (Print Edition) $34.99
Physical copies still remain a popular choice when it comes to reading books.  Upon confirmation of your purchase, a high quality paperback copy of $20K to $2 million in 2 years will be sent to you with free postage anywhere in Australia.
Your paperback book will contain tips, techniques, case studies and activities you need to develop an effective business strategy.
You can purchase the Book (Print Edition) for $34.99 which includes FREE Postage anywhere in Australia. Click here to order outside of Australia.
Audio Book $19.99
The audio version of $20K to $2 million in 2 years has been created using a professional voice artist. This means you can listen to it at your leisure – at home, in the car, or when taking a  walk.  The  high recording quality makes listening a pleasurable process – there's no unpleasant, scratchy vocals or poor audio to endure!
Once you complete the purchase, a zip file containing the MP3 audio files of the book will be made available for you to download it – for just $19.99.
Electronic Book (ePub/Kindle/PDF) $19.99
If you  like to relax and read the book through an eReader like a Kindle or tablet, the electronic version is a great option.  With the appropriate device, you can even read these versions in the dark. Upon purchase, you will receive a link, through which you can download the epub, mobi and pdf versions of the book.
The Whole Package! With over 30% savings!!
In terms of value for money, the comprehensive package is the best option.  You get to hold it, listen to it, and read it via your eReader too.  The package includes a physical copy, which you can add to your library and refer to whenever you want. It also includes an audio version, which is perfect for accessing the information on the go, and a downloadable version for your Kindle or tablet.
The combined value of getting the electronic, paperback copy and the  audio version is over $74.00. However, if you buy this package, it's just $49.99, representing a saving of over 30%.
To find out more about the book, or want to ask any questions about what I can do for your business and my services, please feel free to get in touch today.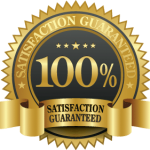 We have a 30 day money back guarantee.  If you do not think that the book has given you insight into how to grow your business,  simply email me at info@excelbizsolutions.com.au and you will brought through the process of getting a refund. You get to keep the bonus videos that come with the book.  It's value is our way of saying 'Thank you' for investing in the book and 'sorry' that you did not find it of value. Please refer to our FAQ section for more information.